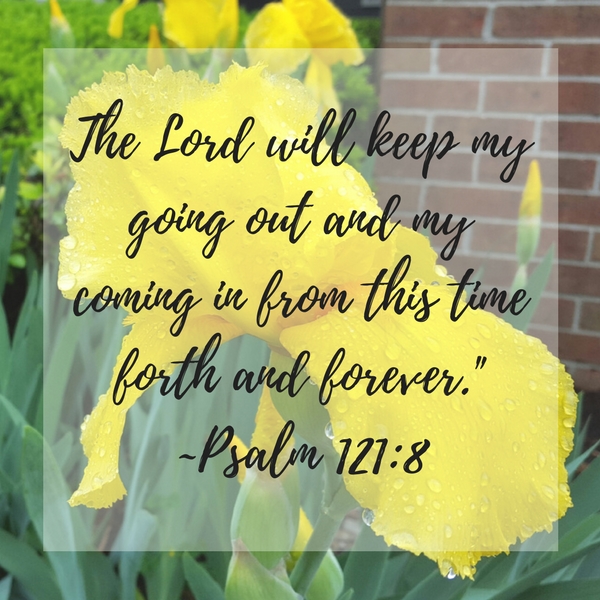 This week has been hard. Too many emotions. Too much struggle and fear and unexpected hiccups that have left me wondering about the future. I had such a nice little plan, and I thought it lined up with what God has been telling me these last few years. But it seems God saw fit to let things get a little shaken up and give me another opportunity to trust Him and His plans instead of relying on my own.
I've felt a lot like Joseph this week. Do you remember him? He was a seventeen year old dreamer in the book of Genesis. One day he awoke from a dream, probably with a smile on his face. He rushed to find his brothers and told them about his dream. Eleven sheaves of wheat circled a twelfth and then bowed down to it. It wasn't too hard for Joseph's brother to interpret, and they definitely did not like the idea of bowing down to their little brother. But Joseph had another dream like it and it infuriated the brothers even more.
Have you ever had a dream, not necessarily one while your sleeping, but something your heart longs for or that God tells you that no one else believes?  I do believe that some dreams are God-given, planted so deeply in our hearts; and while it's hard to hold onto faith that God will come through when everyone else is offering their opinion of how your life should look, we do it anyway. We believe. We cry through those times when we feel like we've been waiting forever. We get frustrated when one more person tells us to give it up. We scream at God and wonder why it's taking so long.
Why do we have these dreams when nothing is happening and we look like idiots?
I'm certain that Joseph felt all that at different points in his life. Perhaps he didn't fully understand what the dream meant, and maybe he didn't even know if it was from God; but I'm sure it stayed with him. He would be in a place of position one day, even over his older brothers.
I wonder what that dream looked in in Joseph's mind. Did he have any sort of hope as to how it would work out? If he did, I'm sure that those hopes were dashed quickly as his brothers tossed him into an empty well, then sold him into slavery.
This wasn't how it was supposed to happen…
Joseph worked in an official's home in Egypt for a while then was thrown into prison when he was falsely accused of taking advantage of that official's wife. In prison he got on good terms with the man in charge and actually helped run the place.
Still, it wasn't ideal.
This is what gets me about Joseph, though. He had a rough few years. Things happened that were outside of his control and he was treated very poorly for them. Yet through it all, Joseph used his gifts and talents and made the most of the situation. Even more than that, five times in Genesis 39 while all of this it happening, it says that "the Lord was with Joseph" and "the Lord caused all that he did to succeed."
Despite the unfortunate situation, God was still using Joseph, still causing his work to succeed as Joseph remained faithful.
That gives me hope. I don't understand why things happen the way they do. This week has been one of those times. Why are my hopes continually dashed? Why do I have this extra hoop to jump through to get my teaching certificate? And why didn't God let me learn about it sooner than this week? I don't understand why God is leading me down the path He is. But looking at Joseph's life, I believe that there is a purpose for all of it. I may never see or understand it, but it is there.
You see, that official's house, that jail, God used all of it. He lined up all the pieces to put Joseph exactly where He wanted him so that one night when the Pharaoh had two disturbing dreams that he didn't understand, the cup-bearer who had been in prison with Joseph would remember him and Joseph would be brought in to interpret Pharaoh's dreams. And not only that, but Joseph was then made second in command of the kingdom–a position that actually helped him save his family's life during a seven year famine.
What his brothers meant as harm, God used for good.
There's been another passage that's encouraged me this week too: Psalm 121. The psalmist talks about looking up to the hills, those places where alters to idols are built, where many people go to offer sacrifices and seek help. Does his help come from there? No. His eyes lift higher to the heavens, to the invisible throne of God. "My help comes from the Lord, who made heaven and earth."
This God will not let my foot be moved and he will never slumber or sleep. He sees it all and knows all and keeps a constant watch over His children. "The Lord is my keeper, the Lord is my shade on my right hand." His presence and protection are made known to me. He is always with me. He is my guard in the brightest of days and the darkest of nights. "The Lord will keep me from all evil; he will keep my life. The Lord will keep my going out and my coming in from this time forth and forever."
My going out and my coming in….
Life is about to change. In two weeks I'll be graduating college and I'll have the whole wide world open to me. I will no longer be tied to years of school. So many options and opportunities and opinions of others can be overwhelming. They have been. It's been hard to keep my eyes on God, to follow Him where He leads; to believe that what He has spoken before will come about. To be okay with the fact that some of my desires do line up with His and I can pursue those things my heart longs for.
I also need to be okay with the fact that sometimes, like Joseph, the dream God gives may not progress like I hope. Sometimes the path God takes me on to reach that dream will be rough and confusing. There will be times when I wonder and question. I've already been doing that. But God holds me.
Through every season and change, every going out and coming in, God holds me. He is leading the way. He is with me, giving me favor and success as I continue to seek Him and live fully where I am now.
The hard part is learning to look up from my confusing and sometimes frustrating circumstances, past the distractions and gods of this world, to the Lord Almighty who is my help, my shield, and my guard. He holds me. And all of this is meant for His glory and that He might bring about His perfect plan.
Whatever season you are in, may you be encouraged to keep your head up and keep your eyes on Jesus. He will work it out. And keep dreaming. Let God bring those dreams about in His time, but never lose faith or hope that He will do it.
Live in the moment!
Live in His love!