**This post contains affiliate links, and I will receive a small commission on purchases made through these links. Read the full disclosure here.**
We've been saying it for a while, but the last year has been a doozy. If given the choice, I never want to repeat it. But with news of variants and cases of this virus spiking, I'm getting a little desperate for hope.
Things have been difficult. Even outside of the virus and global shutdowns, I've experienced a lot of loss in my personal life over the last couple of years, which has left me in a very long season of grief.
The most recent loss being that of my grandma–my #1 fan, my confidant, and my constant encourager to take a break and stop working so hard.
My grandma battled lung cancer for several years. It was a slow decline made slower by medication, but when the meds started to harm more than they helped, she made the decision to stop treatment and just enjoy what was left. My heart was prepared, in a way, but when the morning came when I woke up and she didn't , the grief hit me.
And since I've been on this journey of letting my emotions intersect with my faith, I let myself feel grief. I let myself feel the sadness and the tears. I lived in the anger, surprised that I wasn't just angry about the fact that she was gone; I was just generally angry at everyone and everything.
I was also surprised at how the denial hit me.
They say denial is the first stage of grief. I always understood that as a way of fighting against the reality of what had happened. I thought it was about our brains turning back time and trying to believe that the news we had received wasn't real. I do think some people experience that. But that wasn't my story.
I was sad, of course. I miss her everyday and tear up when I think about something I want to share with her and can't. But the denial I felt didn't stem from struggling to believe she was actually gone. The denial I experienced is struggling to reconcile that death even exists–that one day a person is here and the next they are gone.
Our brains slip into denial because death was never meant to be part of our story. It's hard to comprehend because life was meant to be forever.
When God created the world, created us, death didn't exist. It wasn't part of this world. And I think that perhaps this feeling of denial in seasons of grief is just a reminder of God's kingdom.
Perhaps denial is a place we can find hope.
It's not supposed to be this way, but redemption is coming. That is why, no matter what we have lost–be it loved ones, dreams, or just the simple feeling of normal–this is not the end of the story. We can and should grieve, but we don't grieve without hope.
If you're in a season of grief and need some voices to speak hope to you, I've found these 5 books to be gifts: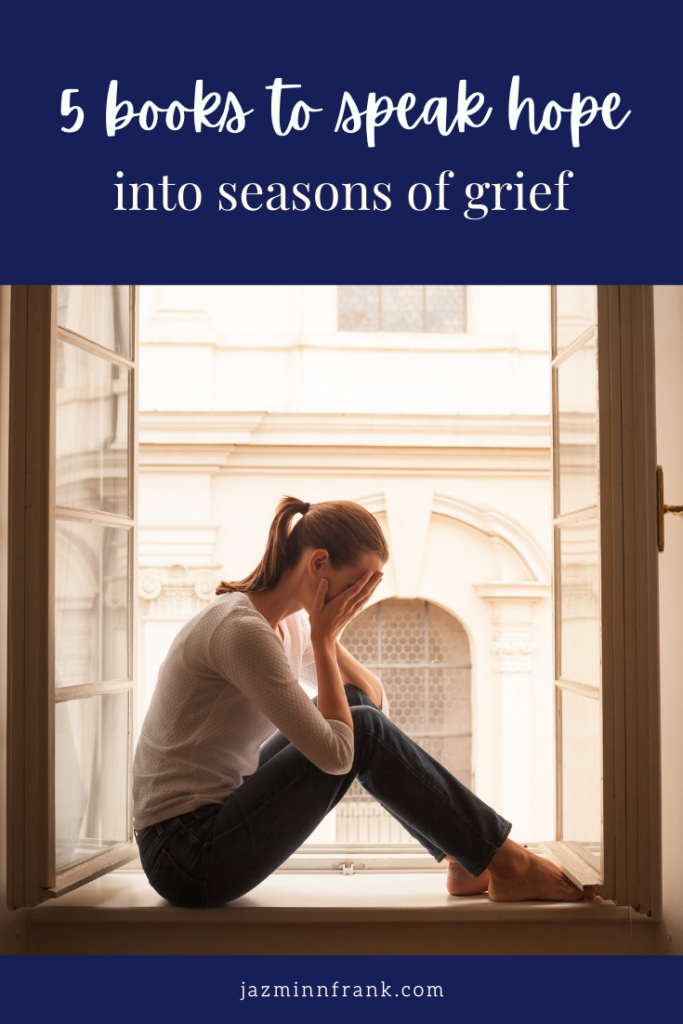 I read this book a few years ago when it first came out and was deeply impacted by Lysa's story of loss, betrayal and finding healing. Lysa shares vulnerably, gives space for sadness, but also provides tools, encouragement, and hope when dealing with life and circumstances we never thought would be part of our story. Another thing I liked about this book was that she gives space to wrestle with our doubts and anger toward God for the things we facing.
The hope this books will speak hope to you if…
Your grief is connected to betrayal or loss of relationship
You're questioning whether God is good or good to you
You feel in the midst of a spiritual battle and you're not sure how to fight

Annie has been a mentoring voice of hope and faith in my life for several years now, and this book, Remember God, is my favorite. I've read it four times, one via paperback and the other three I've listened to the audiobook (which I highly recommend!) It is the story of a year of her life when she faced disappointment, grief, and her questions wrestled with questions about God's goodness. This is a book that gives permission to wrestle with God and remember that He is indeed kind.
This book will speak hope to you if…
You feel caught up in a wrestling match with God
You're questioning God's kindness to you
You're waiting on God to come through on a promise

I've read a lot of faith-based books about people going through hard times. All of them have their merits, but Everything Happens for a Reason was like a breath of fresh air. The author didn't try to offer answers for life's greatest trials. She didn't lean into old cliches or easy responses–in fact, she kind of fights back against them. This is her story of walking through the hard things and letting herself be there without any answers. This book felt like a modern day Job story, where the only answer that seems good enough is knowing that God is here in the midst of it all.
What this book taught me is that sometimes you just need space to sit in the grief and the hard. Rather than running from it, settle in and meet God there.
This book will speak hope to you if…
You need permission and space to feel the weight of grief
You're tired of the familiar cliches and empty words others offer to those who are grieving
You just want someone to be honest about the realities of grief
Sometimes grief holds hands with fear when we end up in an unexpected season. Sometimes grief sneaks up and hangs out longer than we wished it would. Sometimes the only thing we can do is hold on to God. Anchored explores this kind of grief, where we fear what could be, deal what is, and come out on the other side different than we expected. It provides a mix of humor and hope to help you find your anchor in Jesus, the one who is steady and never leaves.
This book will speak hope to you if…
The grief you're facing is connected to motherhood
You need a little bit of humor as well as honesty in this season of grief
You're in a season where you haven't exactly lost anything, but things still feel hard and your grief is real
This book is an honest account of one woman walking through very painful circumstances and obeying God's call to hope in the process. It explores the question of how do you hope again when things didn't turn out the way you wanted them to the first time? Through personal stories, Katie encourages us to take an honest look about where we are putting our hope. If we're hoping in an outcome, more than likely we will be disappointed. But hoping in God–hoping in His goodness, His unchanging character, His love, grace, and mercy–that is the foundation on which we need to build our hope.
Daring to Hope provides a vulnerable reminder that, no matter what we're hoping for, our hope is ultimately founded in God.
This book will speak hope to you if…
You just can't seem to catch a break and feel like you've lost so many things
You're so focused on what's ahead and need a reminder of what is right here
You're dealing with the daily kind of grief that comes with disappointment
Read my full review of Daring to Hope.
Whatever you are grieving and however long this season of grief lasts, I pray that you find hope again.
I pray that you're able to see God's ever-present presence in your life.
I pray that you encounter voices that make space for your honest emotions, keep you company, and allow you to lean on their faith as you move through this season.
Where are you finding hope right now?
Live in His love!