This is a special time in the Church calendar. It's a time when we begin looking ahead and preparing our hearts for Easter. This time leading up to Easter is a season is known as the seasons of Lent.
Lent is the period of time between Ash Wednesday and Resurrection Sunday where the Church sets aside intentional time to fast, pray, read Scripture, and prepare our hearts.
Unlike Advent, Lent is more of a solemn season. It is a season when we're invited to examine our hearts, feel the weight of sin, and press deeper into grace.
We celebrate Easter because on that Sunday morning when Jesus rose from the dead, He accomplished something for us that we couldn't do for ourselves. He freed us from sin and conquered death. He made a way for us to live in relationship with Him forever.
We don't deserve it, and that's what makes it grace.
So as we press toward Easter, let's take time to prepare our hearts for celebration by making space to enter into grace.
Here are a few ideas of what that could look like for you: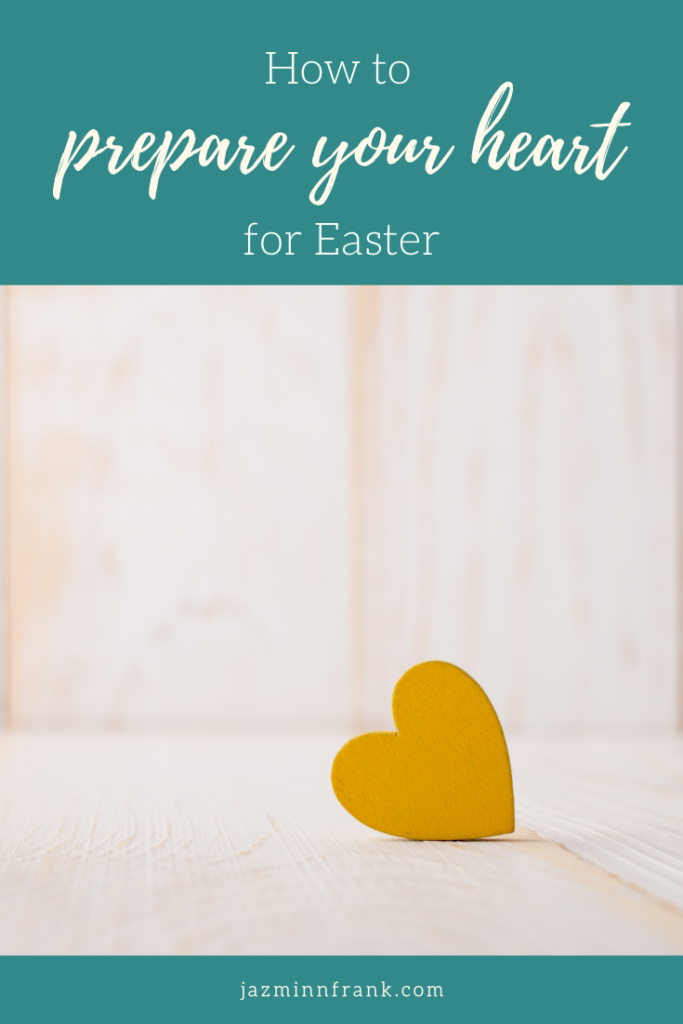 Choose to fast.
Fasting is a traditional way that for centuries the Church has practiced to prepare for Easter. People give up food, habits, or something that is shaping them in order to spend that time connecting with God.
Fasting is difficult, but when we take the time to clear away some of the distractions or things that tend to direct our lives, we create a sacred space where God often speaks, shapes, and directs.
If life feels loud and you feel disconnected, fasting might be a good practice for you during this season.
Practice the Prayer of Examen.
The Prayer of Examen is a new rhythm I'm practicing daily this year. It is a prayer movement where you take time to express gratitude to God for the day, name the ways you've experienced Him in the last 24 hours, confess sin, ask forgiveness, and enjoy living in the grace of His presence.
You can find a lot of great free resources online from journaling pages to outlines that lead you through the Examen, but here are two of the resources I've used:
The Examen Journal provides daily journaling pages that lead you through the process and provide space to write, reflect and pray.

Sacred Rhythms is a great resource if you're wanting to learn more about spiritual rhythms in general. Each chapter is focused on a different rhythm and the ones on prayer and self-examination are super helpful.
Spend time meditating on Scripture.
Meditating on Scripture is a slow, intentional way to rest in God's Word and think deeply about Scripture.
Scripture meditation focuses on a short passage–usually 3-10 verses–that is read multiple times. Each time you work through the passage, you focus on a different element.
As you read, pay attention to what words or phrases stick out to you.
Ask God why those words matter to your life.
Pay attention to your response and ask God if there is a way He would have you respond to that passage–an action to take, a mindset to adapt, a new way to let go.
After the final reading, you simply rest in the Word and then you live out what you learned.
I created a video meditation that walks you through a sample meditation. This method can be applied to any passage.
Work through a Bible Study.
One of my favorite ways to prepare my heart for Easter and Advent is to pick up a Bible study. There are several options out there to choose from. She Reads Truth always has a great study, and the last few years, I've gotten into the rhythm of hosting a study as well.
This year my community will be working through my latest Bible study, Finally Free: Embracing a Life of Abundance & Rest.
This six week study works through the book of Exodus as we journey with Israel out of slavery in Egypt and into the new life of freedom as God's people.
Exodus may seem like an odd book to study during the Easter season, but Easter is about the freedom Christ came to give us.
Exodus is a book about freedom. It chronicles Israel's journey to physical freedom, but it also reveals the deeper freedom God has for His people.
I'd love to have you join us starting March 1st for our online study of Finally Free.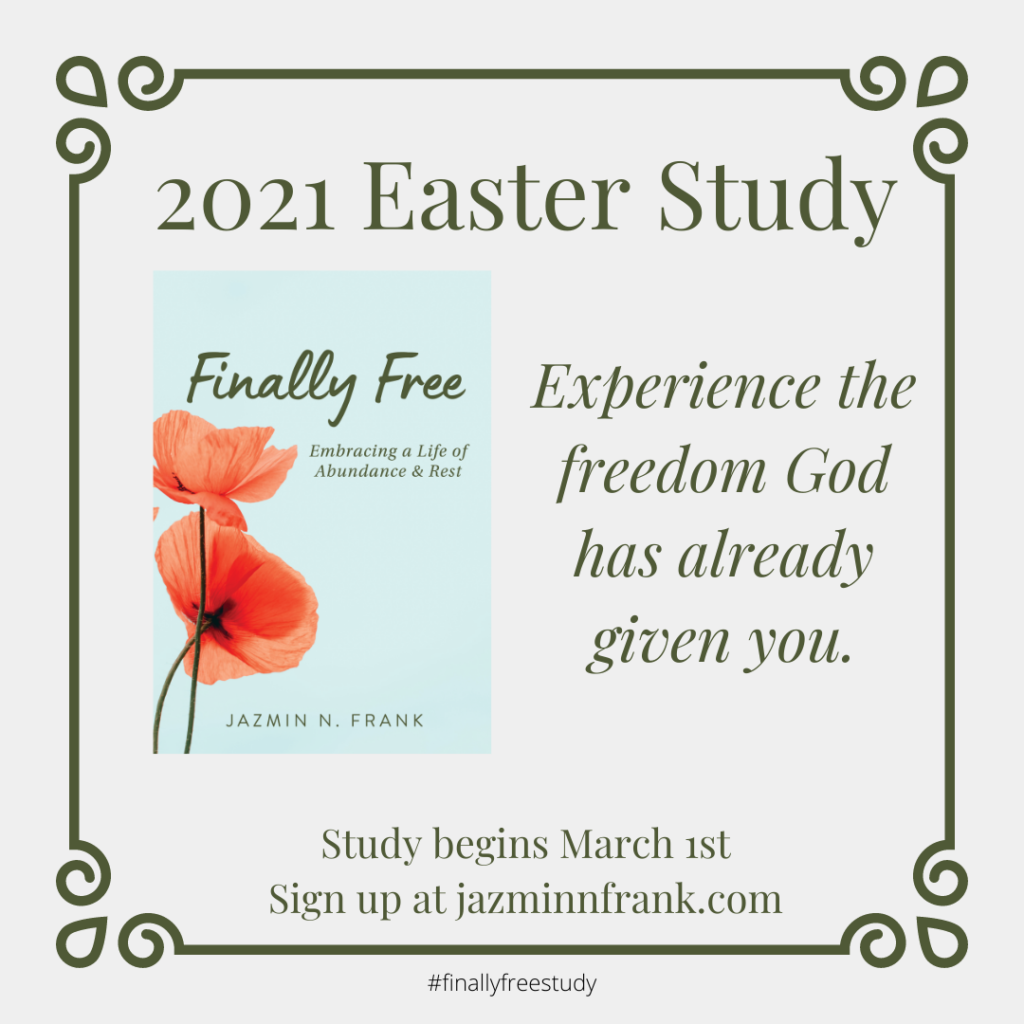 When you sign up you'll get a preview of the first three chapters of Finally Free so that you can begin reading while you wait for your book to arrive (order your copy of Finally Free here). You'll also get weekly teachings, audio meditations, and the opportunity to connect with a community of people that will be studying together.
However you choose to enter into this Lenten season, I encourage you to do it in community, whether that means grabbing a friend, participating with your church, studying and fasting together as a small group or family.
As we've learned over the last twelve months, the Church isn't a building. It's a body of people. It is Jesus' family working, living, serving, and resting together.
There is an individual aspect to Lent and Easter, but don't neglect the community aspect. And if community is something you don't feel like you have, take a look around. Maybe now is the time to be brave and invite relationship with someone in your life.
Don't forget to grab your copy of Finally Free and sign up to join us for the online study beginning March 1st!
Live in His love,