This post does include affiliate links, but I only link to products and resources I love! When you make a  purchase through one of those links, I will receive a small commission. Read the full disclosure here.
When the pandemic hit and the stay-at-home orders were given, life as we knew it was flipped upside down. We were uncertain. We were isolated. We were grieving.
The rhythms and routines we'd developed had to be adapted or scrapped and replaced with completely new ones.
It was tragic and traumatic and, if we're honest, we're still reeling from it all even as we continue to move into our new normal. After the last year of upheaval, I have been struggling to find things to keep me grounded, and I'm certain I am not the only one.
Over the last year, one of the things God and I have been talking about a lot is rhythms and their place in my personal and devoted life.
I love how Jefferson Bethke defines the differences between habits, routines, and rituals (or rhythms):
"…a routine is mundane (tying your shoe). A habit is something that goes a lot deeper into our desires and drives and loves–a repeated action that is difficult to give up or alter (for good or bad). And a ritual [rhythm] to me is a habit of meaning. A repeatable action that draws us into a sacred moment."

~To Hell with the Hustle, pg 18 (2019)
A rhythm is a habit of meaning that draws us into sacred moments.
Every time I open my Bible or sit down to pray or attend Sunday service, those are rhythms. They are routines and habits that are laced with meaning.
Rhythms aren't only helpful in our devotional practices, but they can also help us care for ourselves well too.
Rhythms help us intentionally tend to our whole self and our soul.
We call those rhythms soul care.
Soul care is deeper than self-care.
Soul care is a practice that honors the fact that you and I are both human beings with limits, needs, wants, and desires. It is a way to care for our mind, heart, body, and relationships.
If we are seeking to live a devoted life, soul care is a powerful and necessary rhythm we should be practicing.
So how do we practice soul care?
Here are 3 simple practices I've learned and some ideas about how to implement them: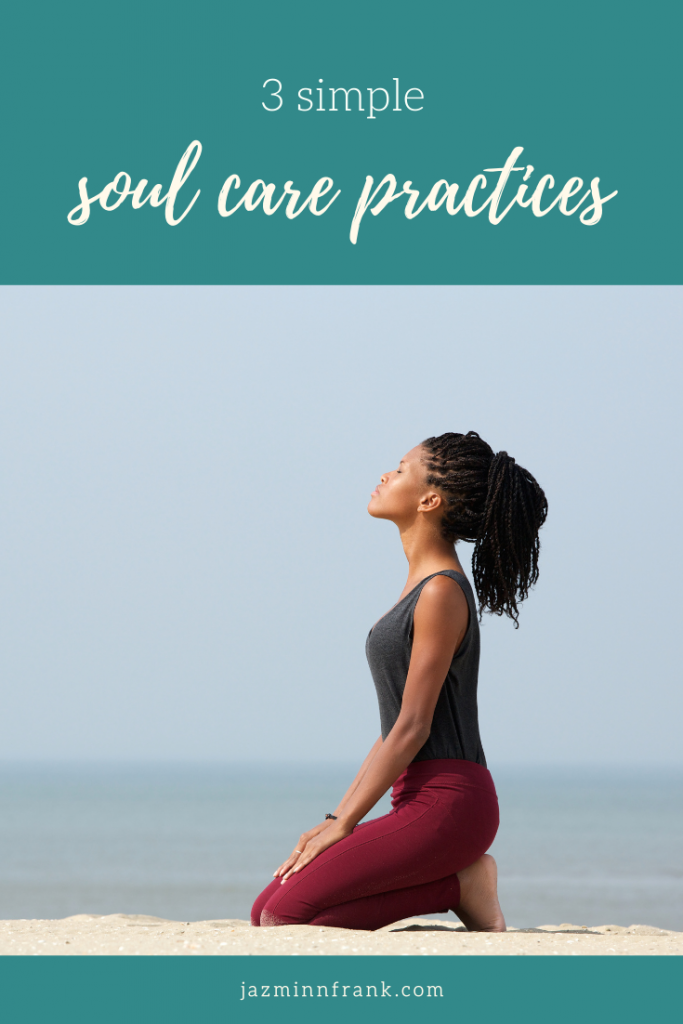 1. Be honest about what you need
We will only be able to practice soul care effectively when we're able to be honest with ourselves about what we need and want.
This was a struggle for me for a long time. I didn't think my needs or wants mattered as much as the next person's, so I would often stuff and ignore and neglect me.
Often when the Greatest Commandment is taught–"love the Lord your God with all of your heart, mind, soul, and strength and love your neighbor as yourself–the emphasis is placed on loving neighbor. But a healthy love for neighbor stems out of a healthy love for God and self.
And a healthy love of self starts by getting honest about what's going on inside of us.
Ideas to implement soul care:
I find it best to get honest when I have a tangible way to process through the things I'm feeling. Sometimes that looks like writing in my journal, using a guided set of questions to take a heart check, or checking in with a trusted friend, mentor, pastor, or accountability partner.
2. Take regular breaks

Another way to practice soul care is by resting.
Perhaps this seems like a give-in, but can I ask you to practice that first practice and be honest for a second: When was the last time you really rested?
And a second question: How consistent are your rhythms of rest?
Regular rest is essential to loving yourself well. Vacations or the occasional day off are helpful, but we need to make resting a regular rhythm.
Ideas to implement soul care:
Sabbath is one simple way to practice soul care and take a regular break.
Sabbath is a 24hr period of time where we set aside work to rest, enjoy creation and community, connect with God, others, and ourselves. Establishing a rhythm of Sabbath can be challenging, but in my own Sabbath journey, I've really come to look forward to my day off this week because I know this is one day a week where I have some built-in soul care time.
If you're looking for some ways to develop the rhythm of Sabbath, my Bible Study Finally Free: Embracing a Life of Abundance & Rest would be a great starting point.
Resting can also be seasonal. Taking a Sabbatical–or extended Sabbath–going on a retreat, taking a vacation, or even cashing in a personal day at work can help you incorporate this kind of soul care.
3. Treat yourself
I've been part of an accountability group for the last three years or so, and early on in our meetings one of the sayings that became canon for us was, "Treat yourself." It was like our benediction and our reminder to each other that we matter and we should be investing in ourselves.
Too often in our day-to-day lives we can get caught up in all that needs done that we forget to have fun and treat ourselves. We're so focused on responsibility that we forget to enjoy.
Ideas to incorporate soul care:
Treating yourself looks different for each of us and is based in what we enjoy and what helps us rest and feel most like ourselves. I've been known to treat myself to good food, an afternoon watching my favorite show, a self-spa experience, exercise, time outside, time to work on a hobby, a new item of clothing–the list goes on.
I've started putting into practice a weekly goal of treating myself at least once. Sometimes I allot a small amount of my budget, but often it is simply a time commitment–a decision to follow through and practice some simple soul care.
What does soul care look like for you? Is there one practice that you can begin implementing this week? Comment below.
Join the Soul Care Summit
Interested in learning more about soul care? My friend Taryn Nergaard is hosting the Soul Care Summit and she's got some great conversations with soul care professionals who share about their experiences practicing soul care.
You'll find sessions about nature walks, the importance of community, the practice of pausing, how to keep a gratitude list, Sabbath, and much more!
The live Summit begins May 24-28th and is completely free! However, if you'd like to get started now or if you're reading this after the live event, the All Access Pass is also available.
Take your next step in your soul care practices. Learn more about the Soul Care Summit and sign up today!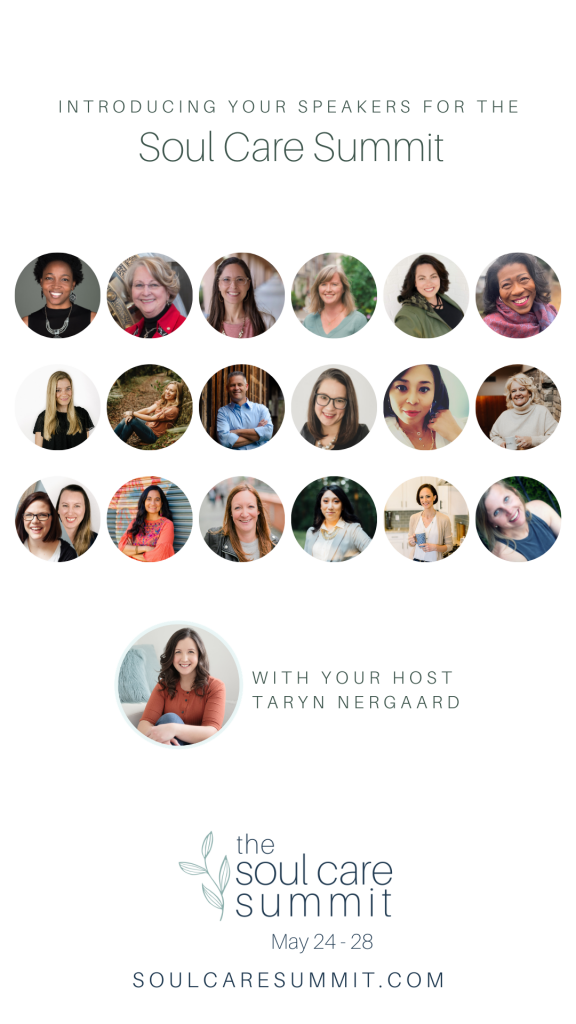 Live in His love!