There are few things more fundamental to the practical faith life than a Bible reading plan. Reading plans aren't required. We can easily read through the Bible in whatever way and at whatever speed works for us.
But for many of us, a Bible reading plan provides the structure and accountability to keep us coming back to the Bible on a regular basis.
Bible reading plans help us form the habit of regular Bible reading, while also taking the guess work out of what we will read when we open our Bibles that day.
When I first started my journey of reading through the Bible, I was excited to jump into a Bible reading plan. It was a traditional plan that had me reading about four chapters a day–a chapter each from the Old and New Testaments, a Psalm, and something from the Proverbs.
Since that first read through, I've tried out various Bible reading plans and methods of reading Scripture.
There are so many options out there, and as we near the new year where many of us are making decisions about how we're going to read through the Bible, I wanted to offer you a few things to consider as you pick your new Bible reading plan.
I've also experienced the challenge of finding your next reading plan, so I also want to share a few of my favorite resources for finding or even creating your own Bible reading plan.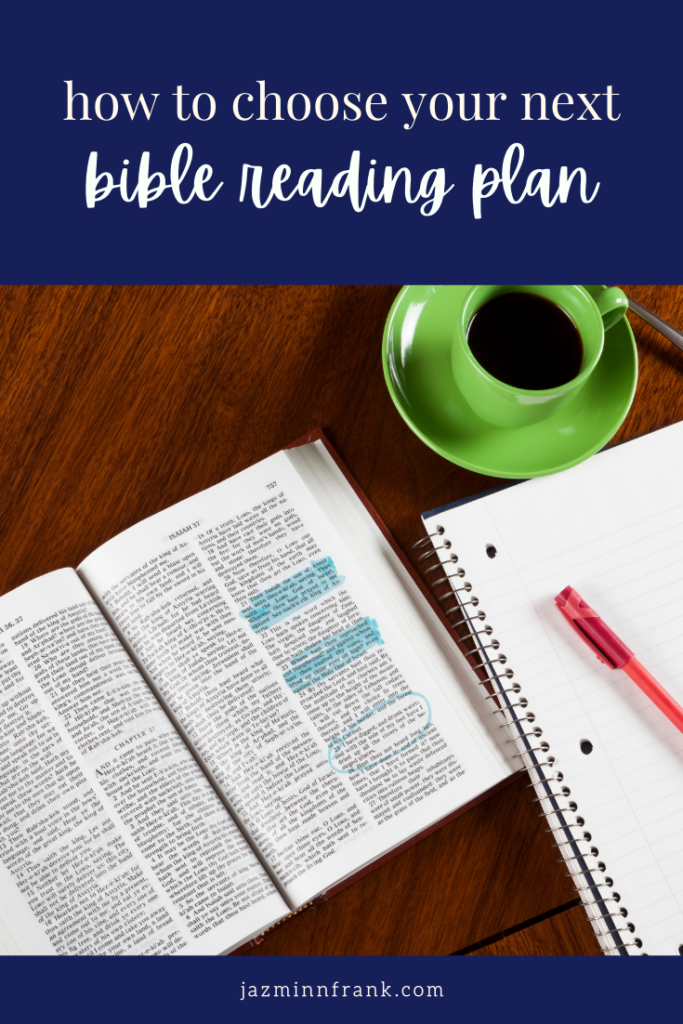 3 Questions to Ask when Choosing a Bible Reading Plan
With so many Bible reading plans out there, it can be hard to decide what is best for you and for the season you're in.
As I've been making plans for how I will be reading the Bible in the coming year, I found myself asking three questions:
1. What do I feel God inviting me into?
2. What do I actually want to do in my Bible reading?
3. What do I need?
One of the risks we run with Bible reading plans is that, while they can be helpful tools, they can also hinder us from actually connecting with God.
We can become so focused on checking off boxes that we miss the relationship aspect of Bible reading, or we may become discouraged when we fall behind and drop the practice altogether.
Whatever plan you choose, whatever the focus of that plan or it's length, don't let the plan become a burden.
That's not to say it won't be challenging, or that you'll have days when you don't want to sit down and read. This is just a friendly reminder to allow this tool to be a space for relationship and connection with God.
Taking the time to answer these three questions for yourself can go a long way to helping you find a Bible reading plan that works for you in the season you're in.
1. What do you feel God inviting me into?
2. What do you actually want to do in your Bible reading?
3. What do you need?
Determine Your Bible Reading Goals
Another thing to consider when choosing a Bible reading plan are your goals.
When it comes to Bible reading plans, there are two types of goals you'll deal with–your personal faith-based goals, and the goals of a particular reading plan.
Each Bible reading plan is set up to accomplish a particular goal like reading the Bible in a year, developing a habit of daily Bible reading, or studying a particular theme, topic, or book.
When choosing a plan, it's important to determine your own faith-based goals first, and then find a plan that helps you make progress toward those goals.
For me, one of my goals right now is to learn from Jesus.
I've been meditating on Matthew 11:28-30 for several weeks and I keep getting drawn to the phrase "learn from me."
So I've been asking Jesus, "What do you want me to learn from you?" I realized that there is no better way to learn from Jesus than to read His words in the New Testament, so I set a goal for myself to do a slow reading of the New Testament as part of my next reading plan.
Your goal doesn't have to be to read through the Bible in a year. If that is your goal, great, but there are so many ways to read through the Bible.
Take some time to reflect and decide what matters most to you in your faith life right now, what ways you most want to grow, what ways you feel God inviting you to grow.
Consider the Length of Your Bible Reading Plan
One last and often overlooked aspect of a Bible reading plan you'll want to make a decision about is how long you want your reading plan to be.
The most common plan take a year to complete because a year-long plan provides the structure for people to read longer passages of Scripture on a daily basis.
However, if a yearly plan isn't for you, you can find or create a reading plan of any length.
If you want a slower pace and shorter passages, you can find two and three year plans. If you want to tackle individual books of the Bible, themes, or topics, monthly plans can be helpful.
You can also find seasonal plans, like 40 day reading plans for Lent, and four week plans for Advent.
Deciding on the length of your reading plan is going to be helpful once you've uncovered your faith-based goals.
Depending on your goal, you may find that a year-long reading plan doesn't fit. Maybe a monthly plan or a 90 day reading plan fits better.
Now that you've considered what kind of Bible reading plan and how long of a plan will fit best for your next season, let's talk about some of my favorite Bible reading plans.
Maybe you'll find your next reading plan in this list.
My Favorite Bible Reading Plans
For years I have built my own Bible reading plans by hand, creating homemade bookmarks, and reading lists for whatever specific reading plan I couldn't find on the internet.
Just a few weeks ago, as I was starting to put together my New Testament and Psalms plan to use for the new year, I stumbled upon the best Bible study tool I've ever seen.
The Bible Reading Generator allows you to create a customized Bible reading plan by choosing your start date, the books of Scripture you want to read, the frequency of your reading, and a few other things as well.
If you're looking for a Bible reading plan that is completely customizable, you'll want to check out this tool.
The only downside is there is no easy way to print off your plan, so it may take some basic computer skills to make a printable version.
2. Daily Grace Story of Redemption studies and journals
Daily Grace provides a wealth of Bible study tools and resources, but one of my favorite resources from them is their Story of Redemption Series.
Available in both a Bible study and a journal format, this series takes you through the entire Bible with a focus on the overarching themes of Scripture.
If you've never read through the entire Bible and want some extra support for the journey, the Story of Redemption Series would be a great choice.
3. Inscribe the Word
For the last couple of years Erika Michelle has put together monthly topical Scripture writing plans called Inscribe the Word. I've used her plans a few times and am a big fan.
Scripture writing is a form of Bible reading plan that focuses on writing and meditating on small passages of Scripture.
This is a great style of plan if you like focusing on shorter passages or if you're a kinetic learner.
You can find her library of topical reading plans here. Or you can join her newsletter and get the new monthly plans in your inbox as they release each month.
I'm very excited you use this reading plan as part of my devoted time because this year the topic is spiritual disciplines.
4. Traditional Bible Reading Plans
If you're looking for a Bible reading plan that's a bit more traditional, Bible Study Tools has a wide range of studies to choose from.
If you'd like to read through the Bible cover to cover in one, two, or three years, they have plans for that.
You can also find Chronological plans to guide you through the Bible in the order biblical events occurred.
If you're interested in exploring themes in Scripture, you can try out a Thematic reading plan.
You can also find a plan to read through the Gospels, or the New Testament in Chronological order.
And if you're looking to read a mix of Old and New Testament passages each day, you can use their Classic reading plan.
5. Self-paced Bible Reading Plan
While dated Bible reading plans can be helpful, there are seasons when a dated Bible reading plan doesn't work for me.
During those seasons, I go for more of a Bible reading checklist, rather than a dated plan.
A Bible reading checklist provides a breakdown of the chapters in Scripture that you can read and check off at your own pace.
Both Rachel Wojo and The Things Hannah Loves have easy to download checklists if you're wanting a Bible reading plan that is more open ended.
6. My 2022 Bible Reading Plan: NT and Psalms
I also wanted to share with you the reading plan I created for myself this year.
Using the Bible Reading Plan Generator, I created a plan that will take me through the New Testament in a year, as well as a couple of readings of the Psalms.
You can download that plan from my free resource library.
When you do, don't forget to sign up for my weekly devotional emails too where I will share insights and thoughts from my Bible reading and some words of encouragement for your devoted life.
Feel free to join me there and we can swap thoughts as we read together.
More Resources for Reading Plans
And if all of those plans don't quite fit the bill, here is a list of other resources where you can find Bible reading plans and studies for whatever season you're in:
So, how will you be reading through your Bible this year?
Live in His love!