**Some of the links below are affiliate links, meaning, at no additional cost to you, I will earn a small commission if you click through and make a purchase. You can read my full disclosure here.**
I've spent many years avoiding prayer journals. Anything that told me how to pray, any model or acronym just made me feel boxed in when it came to talking with God. I often wrote out my prayers, but they filled the lines of a blank journal, fluid and free.
Last year, however, in the midst of a hard season of wrestling with God, I found myself wanting to connect with him in prayer in a new way. I wanted to journal differently, talk with him differently. So I set out to find a new way to journal and to document my prayers.
I scoured Pinterest and tried several methods of prayer journaling. I learned what I liked, what didn't work for me, and found some simple ways to organize my prayer life that didn't feel overwhelming or complicated.
In the process I learned different ways to connect with God in prayer. I made space to listen as well as speak. I focused on meditating on and praying Scripture. I discovered breath prayers and one-word prayers, and the simplicity of just praying a sentence, because you just don't need a lot of words to share your heart with God.
Taking time to explore and try out different ways of prayer journaling helped me see that what works for someone else might not work for me. But it also gave me the freedom of changing up my own routines with my life seasons.
Sometimes we can get caught up in the routine of meeting with God. Routines are good and they help us show up, but sometimes we need to change things up. Sometimes what we were doing before, how we had been meeting with God just doesn't work for this season.
With so many methods of prayer journaling out there, it's important to find what works for you and what fits your current season.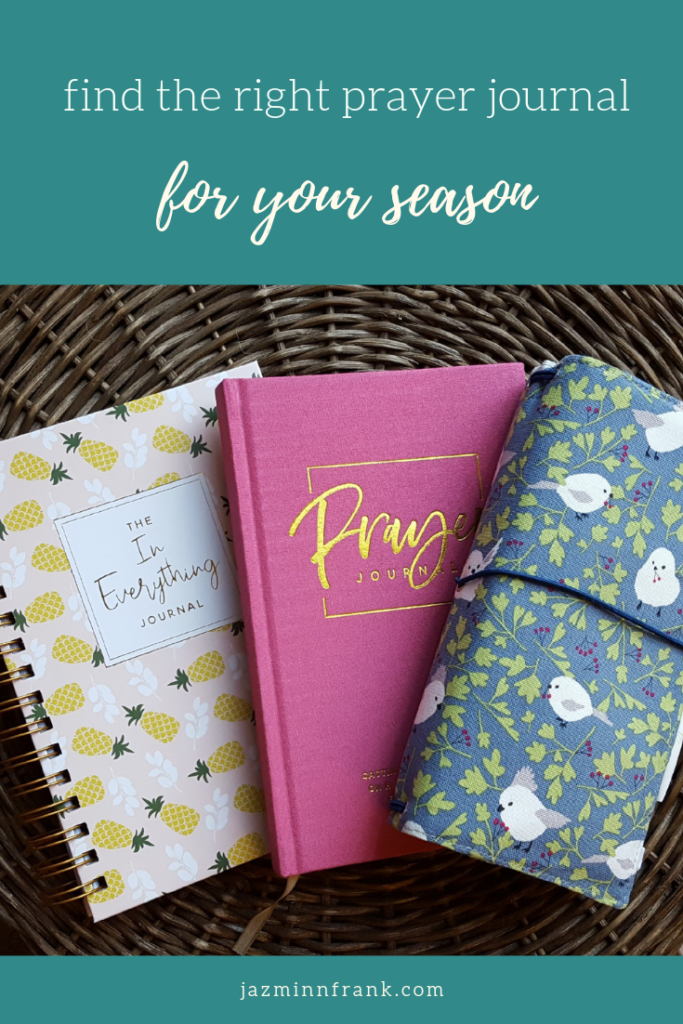 Why you should journal your prayers
I started journaling when I was twelve and quickly found that writing out my prayers was a whole lot easier than trying to stay focused enough in my brain to pray silently. There is something about the slow movement of my pen across the page that keeps me focused.
Not only that, but journaling my prayers as helps me keep a record of what God and I have talked about–what I've asked and what he's said to me–so that when I go back and revisit entries, I have a record of my faith journey.
Everywhere God and I have been, everything that's changed, everything I've asked him about, and every way he has responded or come through or shown up, it's all there in my journals.
They all serve as a record of God's faithfulness.
My favorite prayer journals
If prayer journaling is a new thing for you, or if you've been writing your prayers for a while and are looking for something new for your current season, here are some of my favorite prayer journals.
The blank notebook. This is how it all started. On the blank lines of a notebook. Unguided and unfiltered, I simply poured out my heart to the Lord. Whatever was on my mind, whatever I was feeling, most of my entries are directed to him. This is the easiest and simplest way to begin. Just grab some paper or a notebook and start writing what you pray.
The traveler's notebook. Last year when I sought out a new way to record my prayers, this was the method I settled on. It's a cloth notebook cover that has elastic chords on the inside so that you can slide notebooks in and out. Each notebook has a different focus or purpose. Currently I have one notebook for Bible study notes and morning prayer, gratitude, normal journaling, and one for sermon notes. And if I decide to change up the focus of each notebook, I just slide in a new one or reorganize and I'm good to go.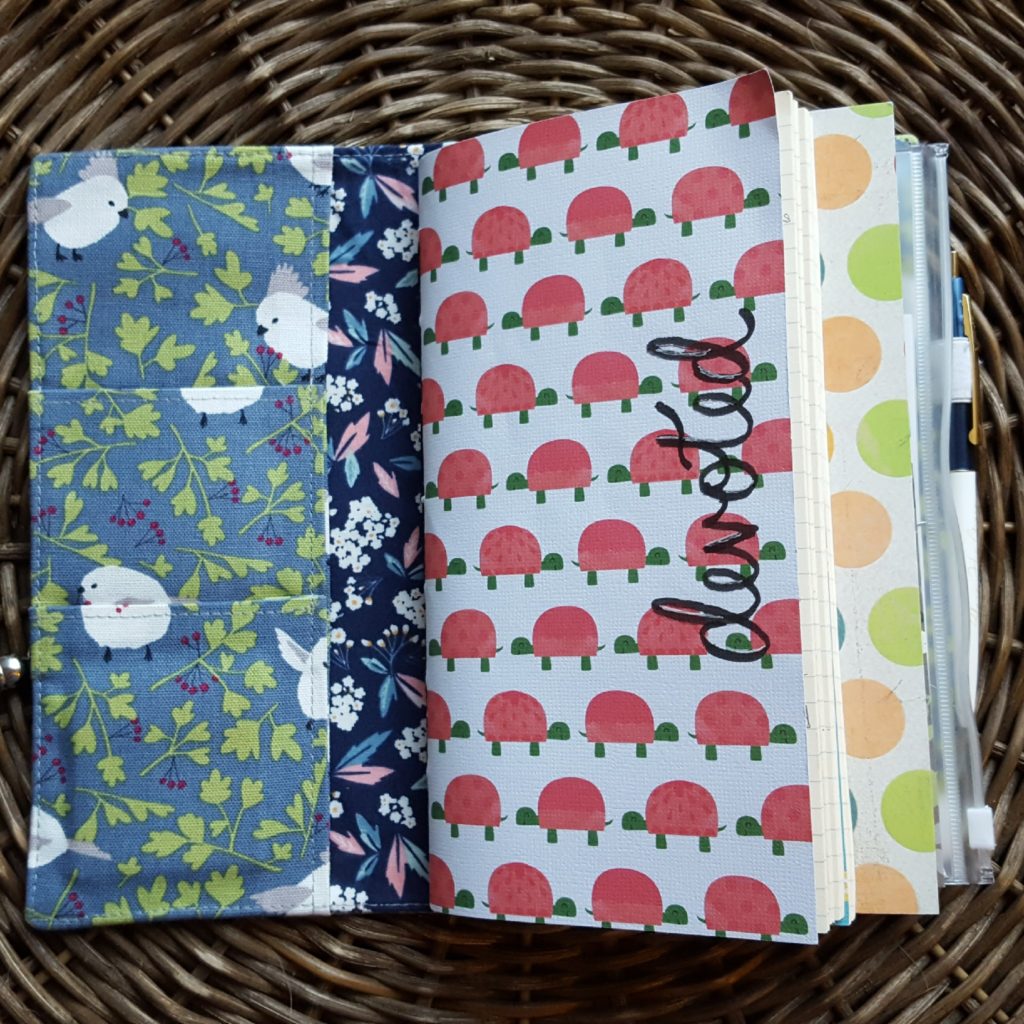 ACTS: This acronym stands for Adoration Confession Thanksgiving Supplication. It's a method of prayer that gives you a structure for your prayer time. I'm really quick to jump straight to the supplication piece and ask God for all those things on my heart, but this model reminds me to slow down and remember who God is before I ever ask anything. You can easily use this model in a blank notebook, but I like journals like the Daily Grace Prayer Journal* that has it already set up for me. This way I just fill in the blanks.
Short and Sweet: In my current season I've found this method especially useful. Sometimes I think that God won't answer my prayers if I my they are too short or not detailed enough, and that just isn't true. This method reminds me that God knows my heart and I don't need to come to him with a certain word count. He just wants my honest and vulnerable heart. The In Everything Prayer Journal* includes prayer pages for short and sweet prayers, with room to record the answer when it comes. It also has customizable sections that allow you to pray by topic, day, person, or however you feel like sectioning your prayers.
Write the Word Journal: These are my favorite go-to journals when I need something different in way of Bible study and prayer. Each entry provides a Scripture reference, space to write out the Scripture passage, and empty space to journal. The Cultivate Prayer* journal is what is on my shelf right now. If you're wanting to develop the discipline of praying Scripture, this is a great resource!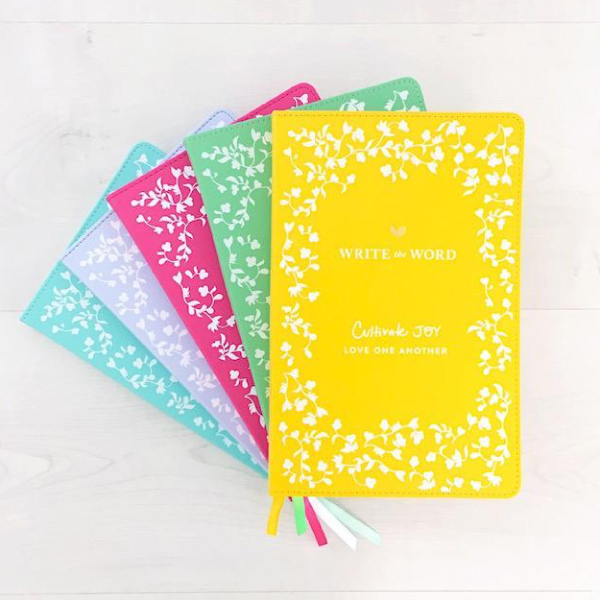 How to know what's best for you
Finding what's best for your season may take some time and experimentation and prayer. I've asked God many times, "Lord, I don't know how to best connect with you right now. Would you show me?" And he always does. He'll give me an idea or drop a resource into my lap.
To get you started it might be good to pay attention to your current prayer time. Do you feel rushed? Disconnected? Confused? Overwhelmed? Obligated? Do you feel the need to pray long, but a desire to pray short? Are you speaking at God more than you're listening to him?
However you end up recording your prayers, I encourage you to try it. Grab a pen, a journal of some sort and just start somewhere. You have the freedom to change things up tomorrow or next week or in the next life season.
Prayer is meant to be relational and fluid.
We don't have to follow the same steps every time. And actually, when we mix it up a bit, when we step out of the routine we've developed, often we're able to connect with God a little better, because suddenly it's not about us showing up on our terms–we're opening the door wide for God to pursue us as he sees fit too.
If you're looking for some more guidance, I wrote a whole series all about why prayer matters and several ways to practice this discipline. You can find the first post here called of that series here.
Community question: Do you journal your prayers? What method do you use? Is there a new one here that you're interested in trying?
Related: The Power of a Prayerful Life
Live in his love!