**Some of the links below are affiliate links, meaning, at no additional cost to you, I will earn a commission if you click through and make a purchase. You can read my full disclosure here.**
There is a man I've come to admire, not for his accomplishments, but for the humble way he submitted to God in everything he did. George Muller lived during the 1800s and is most known for two things: his work with orphans in Bristol, England, and his prayer life.
Early in his adult years, Muller decided to stop receiving a salary from the church where he pastored. He instead left a donation box at the back of the church if anyone in his congregation wished to give anything for the pastor and his wife, but he didn't ask for anything. Instead he relied fully on God.
In reading through his autobiography*, I've been completely floored by how God provided for George Muller. From loaves of bread, to a few coins, to needed furniture, George Muller prayed fervently for God to provide.
He never let anyone else know his needs, yet never once did those needs go unmet.
Reading his story has been a challenge for me to cultivate a prayerful life. I've felt myself falling before God a little more, seeking to trust Him to be my sole Provider.
What does it mean to have a prayerful life?
Just out of curiosity, I looked up the definition of prayer. The first definition wasn't surprising and for many of us is the most familiar meaning of the word: "a devout petition to God or an object of worship."
We're used to asking God for things, and for many of us that's what our prayer time looks like–coming with our laundry list of requests for healing, provision, people to come to know Christ, and enough money to fill up the gas tank.
And please hear me when I say that there is nothing wrong with this. We're told in 1 Peter 5:7 we're told to cast our cares before the Lord because He cares for us.
However, prayer is meant to be so much more than just offering our requests to God, as the second definition shows: prayer is "a spiritual communion with God or an object of worship, as in supplication, thanksgiving, adoration, or confession."
Prayer is spiritual communion with God.
And in case you're wondering what communion means, it is "the sharing or exchanging of intimate thoughts and feelings."
Unlike how many of us treat it, prayer is not a one-sided conversation. It is not us coming before the Lord, laying our all the things we want Him to do and them walking away.
Prayer is a conversation and it can be an intimate time of connecting with God.
Prayer is an invitation for God to move in our lives.
Prayer is an act of worship, a safe place for confession.
Prayer is an opportunity for our faith to grow.
Cultivating a prayerful life
Over the last few weeks I've felt a little too caught up in the constant stream of schedules and meetings and work hours. I've felt tired and worn down and I've wondered more than once if what I'm doing really makes any difference.
In the midst of all the crazy, I've been trying to model my prayer life after George Muller's and go to God with every single need–financial, physical, emotional, interpersonal–all of it.
And let me tell you, God has felt so close.
There have been days when I offer God a short prayer letting Him know that my bank account is starting to feel uncomfortable, and within a few hours I get a text from a family, asking me to babysit their kids for a few hours the next day.
In moments of self-doubt, a friend has delivered a timely word of affirmation.
And at one prayer meeting a few weeks ago, I sat in the group too tired to explain the heaviness on my heart and ask for prayer. Instead, I shared it silently with the Lord and only a moment later a friend's hand stretched out and rested on my shoulder as she prayed the exact words my heart needed to hear.
When we stop to listen and watch for God's reply, prayer becomes an avenue for God to show us just how faithful He is–to remind us that He is there.
True, answers don't always come that quickly. There are many things in my life I've prayed for that haven't happened right away or in the way I expected. But each time we offer a piece of our heart, our life, our hurt to the Lord it is an opportunity for Him to show up and show off.
When we come before the Lord in prayer and intentionally seek Him, He makes Himself known to us. He reminds us that He sees and knows and cares and loves and that He is present even on our hardest of days.
Next to God's Word, prayer is the most powerful way we have to get to know the Lord.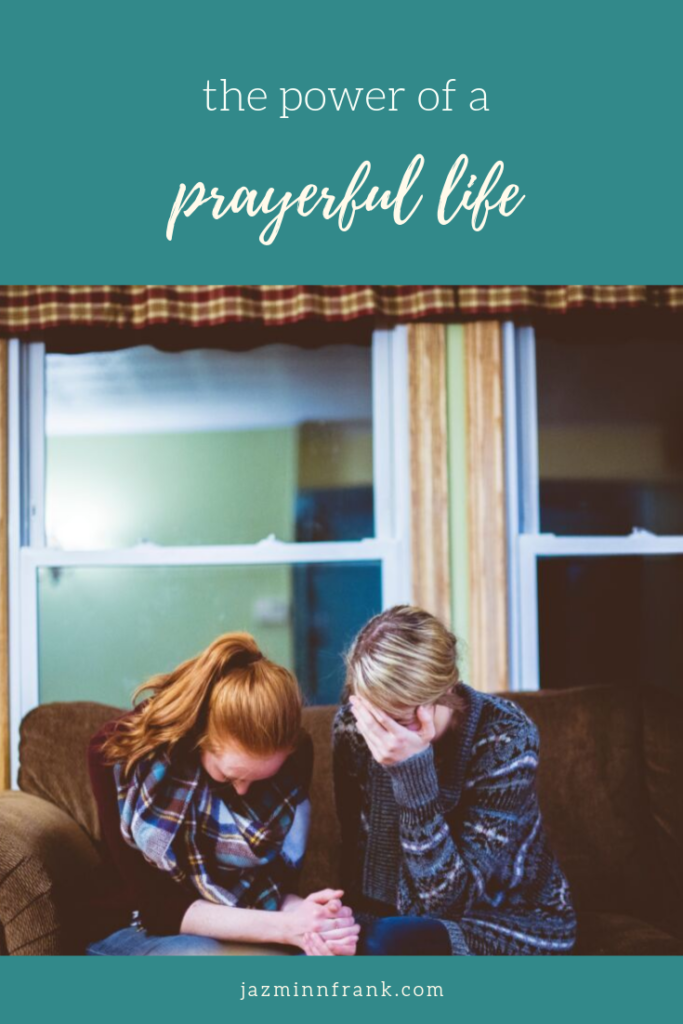 What's keeping you from living a prayerful life?
Now maybe right about now your heart feels a bit tied up in a round of tug-o-war. Perhaps all of this sounds nice and peachy, but putting it into practice is a little hard. I hear that. I get that. And if I'm honest, my prayer life isn't always that great either.
Over the next several posts we're going to look at how we can grow cultivate a powerful prayer life, but for now, let's talk about some of the things that are keeping us from living the prayerful life:
We don't have enough time. Like many of the spiritual disciplines, we tend to think that if we don't have at least thirty minutes to devote to prayer, we just shouldn't do it. But the great thing about prayer is it's portable.
While it is nice to have a specific spot to pray or a set time, when we look at prayer as an ongoing conversation with God, it can truly happen anywhere at anytime, and it doesn't have to be long. Our hearts should always be tuned in to hear from God and share our cares with Him.
We're the only ones doing the talking. This is one I'm guilty of and I'm trying to be more intentional about, but maybe one of the reasons our prayer life isn't thriving is because we're not listening. We're not taking time to ask God what He has to say about these things, what His will is. This will be a topic we hit more in depth later, but it's definitely something we can start paying attention to now. Are you taking time to listen as part of your prayer time?
We struggle with trusting God. If prayer is conversation and vulnerability, maybe you're prayer life isn't thriving because you don't really trust God with your heart right now. If that's you, that's okay.
We are all on a journey of learning to trust God, but I want to challenge you to ask God to teach you to trust Him and allow yourself to open up and be honest with Him. He knows your heart and knows what you're going through. He knows any anger or disappointment you have toward Him and He can handle it.
One prayer I often say when I'm struggling to trust God is, "Lord, help my unbelief. Help me to trust you." And then I leave my heart open to Him.
We see prayer as performance. There is no "right way" to pray. There are no special words or phrases we have to repeat, no special time we have to pray in order to earn God's favor. All God wants is our heart. He just wants us to be available and share what matters to us, and listen to what matters to Him.
It's time to lay aside this performance mindset and just be with God, talk with Him, and take time to listen.
I'm so excited for the next few weeks as we look at different ways we can cultivate a prayerful life. I hope that this series encourages you, helps you see prayer in a different light, and empowers you to relate to God in a way you haven't before.
Want a way to deepen your prayer life? Download the Prayer Card set from my free resource library!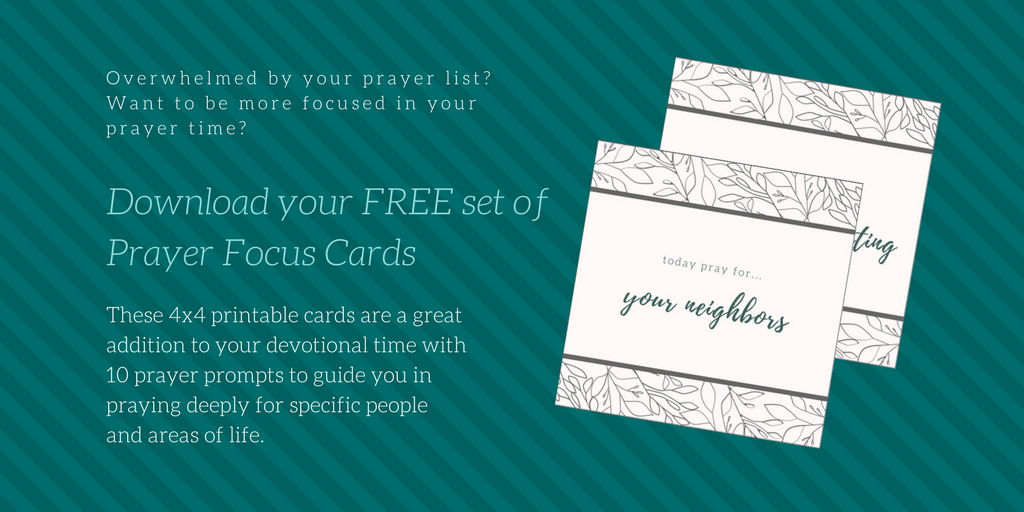 Related: Keeping Your Heart Open to God
Live in His love!