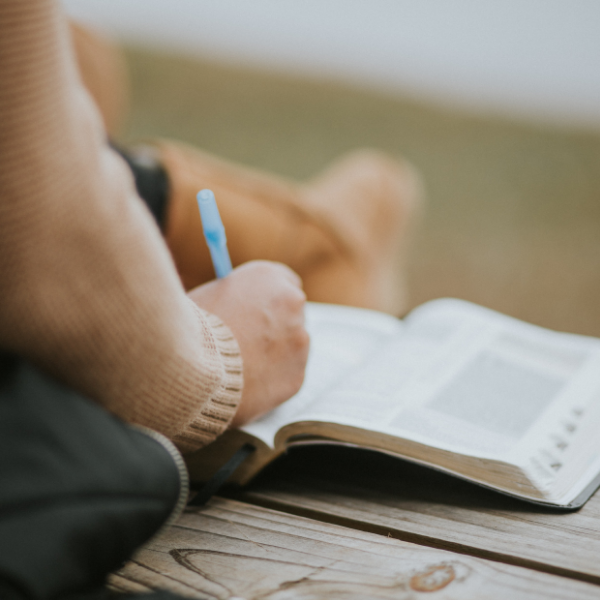 **Some of the links below are affiliate links*, meaning, at no additional cost to you, I will earn a commission if you click through and make a purchase. Read my full disclosure here.**
I used to think that there was a "right way" to spend time with the Lord. I was convinced that I had to read so many chapters each day or pray for x amount of time in order for it to count.
But over the years God has taught me so much about freedom as I've spent time with Him. Freedom to change up the routine, change up the way I meet with Him, the way I pray, the way I read my Bible.
As I've given Him the space to work on my heart He has taught me to approach our time together as I would any other relationship.
When I get together with a friend we don't do the same thing every time. Sure, there are things we keep coming back to and do often, but every time together is different.
The same is true with God. Every time we seek to spend time with Him, it looks a little different than the last time we sat down with Him.
Though my daily devotional time looks different every day, there are a few resources I always come back to that continually encourage me and draw me closer to God.
If you've ever wondered what to include in your time with the Lord, here are some of my favorite resources:
A good translation of the Bible
I work at a Christian bookstore and often when people come in looking for a Bible they are overwhelmed by the options, and honestly, I can't blame them. There are so many translations and types of Bibles to sort through, it's hard to know what to pick.
This year I've been reading through the the She Reads Truth Bible*, which is a Christian Standard Bible, and I am loving it! Not only is the Bible beautiful, but the translation is the perfect blend of accurate translation from the original text and easy to read language. Like other study Bibles, the She Reads Truth Bible also has study helps, reading plans, and helpful articles and devotionals sprinkled throughout the pages.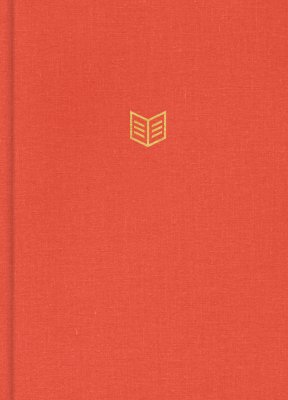 I also really enjoy the English Standard Version.* It's more of a literal word-for-word translation, which means I'm getting as close to the original meaning as our English language can. The ESV Thinline* is the Bible I carry with me to church and when I travel. I picked it up in my University bookstore my freshman year of college when my little compact Bible started falling apart, and my study Bible was just too bulky to carry to chapel. The Thinline is a perfect in-between to easily carry around, and it has some space in the margins for notes and thoughts.
And actually that Bible from college is one of my favorites–the translation is good, but this Bible is my favorite more because of sentimental reasons. After so many years of writing notes and underlining verses, I actually struggle with letting other people borrow that Bible I know they will find private pieces of my heart and conversations with God marked out in ink on those thin pages. Something about that just feels really private and personal.
The Bible, if we let it, can become more than just a bound book of words and pages. It becomes an intimate conversation with God and one of the most powerful ways we have of getting to know Him.
A pretty journal
I started keeping a journal when I was twelve, and now I've got a plastic tote of about thirty journals sitting in my closet. Over the years, the habit of writing out my thoughts and feelings in a "Dear Diary" kind of fashion has transformed into an ongoing conversation with the Lord. Those journals hold my heart. They hold my hurts and hopes and endless pages of prayers. Those pages hold questions and letters I've written to God and letters He's whispered back to me.
My journals document my story and God's faithfulness in my life.
Some of them I've been given, and those are super special to me. Others I have searched for myself, going to store after store until I found the right one for that particular season.
If you're not a journaler, it's something I encourage everyone to try at least once. Fill one journal. Use it as a way to track what's going on in your life; make it a prayer journal and write out your prayers and how God answers; if you're not a fan of writing in your Bible, take notes in your journal while you read and allow God to give you a deeper understanding of His story.
And then when you've filled the pages, flip back through and see how God showed up. Reflect on what you learned. Read over the prayers you prayed and rejoice over how God came through.
Pens and highlighters
I don't know about you, but I am a huge fan of writing in my Bible. For me, that's how conversation begins. I write questions in the margins, make connections, and mark verses or passages that stick out to me.
For years my pen of choice for writing in my Bible was your basic black Bic pen that came in those packs you can purchase at Wal-mart. But lately I've been using a little more color into my Bible study life.
Micron pens* have become my go-to pen. Sometimes I use the colors, sometimes I stick with basic black, but I love them because they stand out a little more than your basic ink pen and they don't bleed through the pages (which feels like a huge accomplishment with as thin as those Bible pages can be).
I also us the Highlighter Set from Daily Grace Co.* These highlighters are magical. They are like giant florescent crayons, so they doesn't bleed through the page. Plus, the pack of five colors also comes with a note card for you to assign each color a topic, so when I highlight something in orange, I know it's connected with God's faithfulness, yellow is related to trusting God, and green marks instances where Jesus shows up or is alluded to (which is extremely helpful right now in the Old Testament, because Jesus is there too!).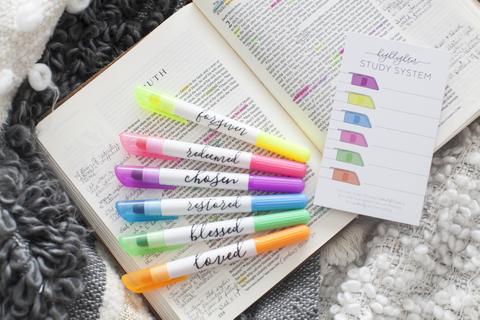 If you're not one to mark up your Bible, I totally understand. Stick to the journal, if you're more comfortable with that. But if you're willing to take a risk and try something different, grab some pens and highlighters and allow your Bible pages to get a little messy as you dig deeper into God's story.
A spiritual formation book or devotional
Along with my Bible, I usually have some kind of spiritual formation book or devotional that I read too.
Currently I'm reading through (for the second time) Let's All Be Brave* by Annie F. Downs. Annie is one of my favorite voices right now when it comes to Christian living, and since my word for the year is BRAVE, this book just felt like the next right thing to read. She's also written a devotional on the same topic called 100 Days to Brave* which I read at the beginning of the year. If you doubt your ability to live courageously, I'd highly recommend either one of these!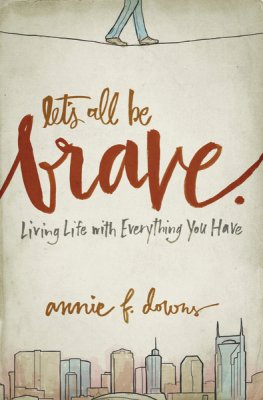 Another devotional I just recently finished was Whispers of Rest* by Bonnie Gray, and can I just say my soul needed those words. I'm horrible at resting. I'm a get-it-done, I'll-do-it-myself kind of girl, but God's been asking me to slow down, let go, and rest.
Worship music
One final staple I often go back to is worship music. I'll be honest, sometimes my heart is just not in a place to read the Bible or read anything for that matter. Sometimes my brain is spinning too much to put coherent words down on the pages of my journal and literally all I can do is listen. On those days, worship music is the only thing that brings me back to God.
So I'll put a playlist on repeat and listen until my heart feels like I can face the world again. You check out some of my favorites on my Worship playlist on Spotify.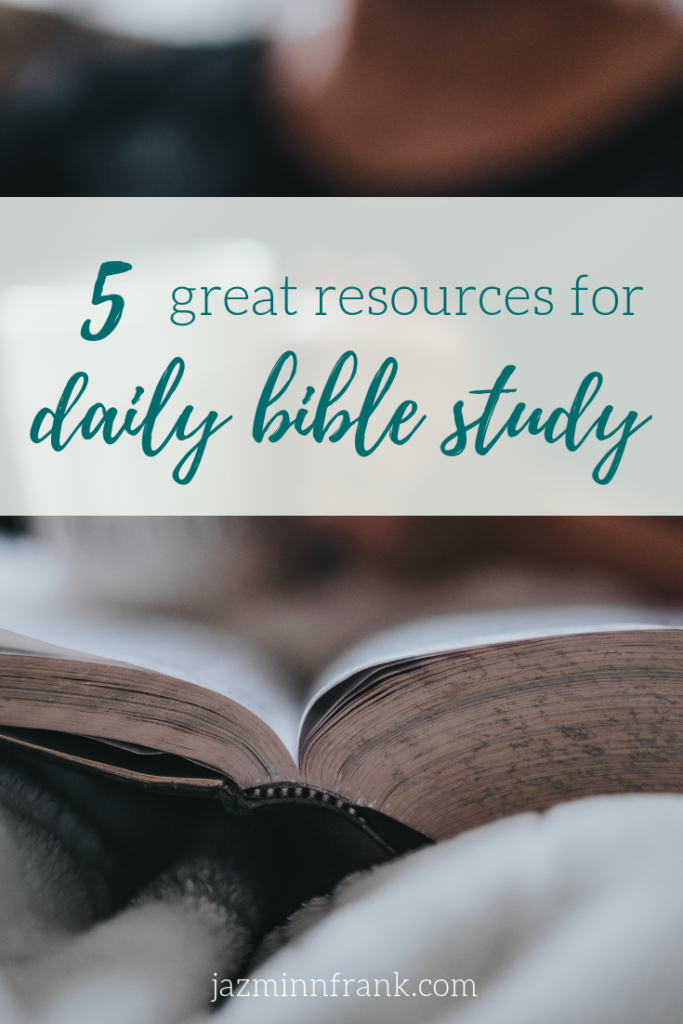 A heart seeking to know God

As great as all of these resources are, they are merely tools–opportunities to get to know God a little better. However, all the resources in the world are of no use to us if our hearts aren't in it.
If we're going to encounter God and grow in our relationship with Him, our hearts need to be open and seeking.
This is a relationship. It is not something we need to do or have to do in order to make God happy. There are no check boxes we need to mark off each day. All He asks is that we come to Him and spend some quality time listening to Him, sharing with Him, just being in His presence.
Every day we sit down to spend time with the Lord is going to look a little different. Even if you're more of a structure oriented person, there will be days when the schedule gets wonky or your heart is weary and you just can't do things the way you usually do. Having a solid base of resources to pull from and knowing that you have the freedom to change things up (or allow God to change things up, because He's been known to do that) will only make your time with the Lord that much more sweet and real.
What are your go-to resources when it comes to spending time with the Lord?
Live in His love!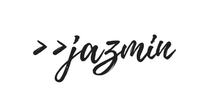 Related: Learning to Hope Again (Book Review)
*Disclosure: Some of the links below are affiliate links, meaning, at no additional cost to you, I will earn a commission if you click through and make a purchase.