*Some of the links are affiliate links, which means I will receive a small commission for an purchases made through that link. This is one way I supplement some income so that I can keep created devoted resources for you!*
I'm a bit of a Bible collector. And by that I mean I'll find a Bible, use it for a while, and then find a different one.
During the time I spent working at a Christian bookstore, my Bible collecting problem was especially difficult. Part of my job was knowing the pros and cons of each Bible we carried, various translations, and helping our customers find the Bible that was right for them. I also experienced the exciting perk of stocking product and seeing new Bibles before our customers did.
One of those new Bibles that came out while I was working there was the (in)courage Devotional Bible. (in)courage is an online devotional community that encourages women in all walks of life. I've written for them before, and was super impressed by the Bible they created.
It took me a while to finally purchase one for myself, but I haven't regretted it. This Bible has been a sweet companion for this season, and because I love it so much, I've partnered with (in)courage to give one away!!!
Now before I give you all the details about how you can get a free Bible for yourself, let me tell you why this is my new favorite Bible.
Reason #1: The design
This may seem like kind of superficial. God's Word is God's Word, right? What does it matter how it looks? But I have found that when something is packaged well and colorful, I'm more likely to use it. And this Bible is full of color! From the different cover options (I chose the navy leather) to the color-coded devotionals and beautifully designed book introductions, I want to spend time in this Bible, which makes the discipline of sitting down and doing my Bible reading a whole lot easier. There are also two ribbon bookmakers, so if you're reading in multiple places at once, you don't have to worry about losing a spot.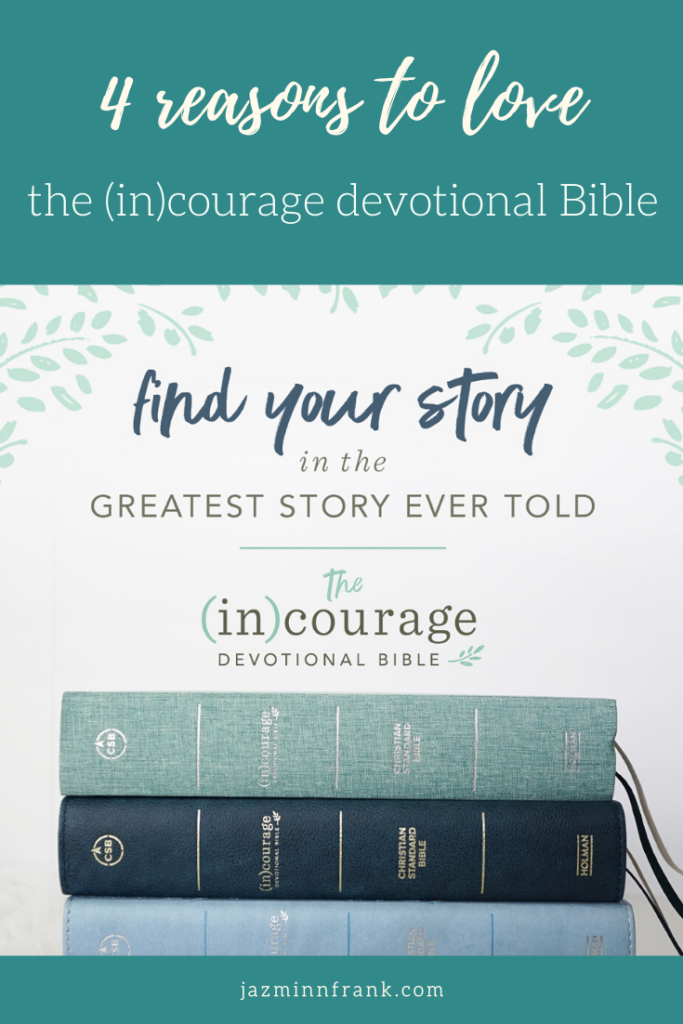 Reason #2: The devotionals and studies
The second thing that really drew me to this Bible was the inclusion of over 50 reflective devotionals written by various authors and contributors. These devotionals are topical and are slid right in beside the passage they teach about. While I tend to like more study materials, in this season it's been really encouraging to read the stories of other women who have struggled, overcome, and met God in the hard places. The other great part about these devotions is that they are all color coded, so if you're interested in studying topics like hope, friendship, or hospitality, you can flip to the reading plans in the back of the Bible and read through all of the passages and devotions on that topic.
Reason #3: The writing space
I'm a big believer in writing in your Bible. I've been doing it for years. Unfortunately, as Bibles have continued to develop in their design, the space available for make notes in the pages has changed too.
Bible Journaling has led to the increase of margin size, however, most of those Journaling Bibles have lined margins, and I just am not a fan of the lines on the side. The (in)courage Bible does notetaking differently. Instead of wide margins, they leave space on the bottom half of the page for notetaking. There are lines, but for some reason the placement of these lines doesn't bug me. I've been using this space for notes that are too long for margins, but not necessarily long enough to pull out my journal.
Reason #4: The translation
There are several translations available when you're choosing a Bible, but one of the things you want to do is make sure you choose one that is easy to understand. If there is anything that will challenge you to keep up with your Bible reading it's a version of Scripture that you don't understand. The (in)courage Bible is the Christian Standard Bible (CSB). This is a newer revision of the Holman Christian Standard Bible, if you're familiar with that. This translation is super user friendly, as it is more modern in it's language, while still keeping to the original meaning of Scripture. It's a newer translation for me, but I'm really enjoying it.
All in all this is one of the best Bibles that I own for daily devoted time. I got it at a time when I needed something a little extra and it's been a gift to sit in Scripture, and read these devotionals. The topical reading plans have given me a place to land when I don't know what to read or when I'm in between studies.
Its just a beautiful Bible, and I'm excited to give one away.
So here's how you can win. Simply input your email into the form below then check your email to confirm your entry. Once you have entered your email you will be given an opportunity for bonus entries. Make sure you bookmark that entry page because you can click back each day for a daily entry.
As an added bonus, I'm also throwing in a signed copy of my Name Above All Names Bible study!
The giveaway will close April 21st, 2020 at 5pm EST. Make sure all of your entries are in by then.
Do you have a favorite Bible you've been using?
Related: Why Study the Names of Jesus
Live in His love!