Books take us to places we might never get to on our own. When we pick up a book we're looking for something, whether that be answers, an escape, entertainment, or direction.
I have experienced so many powerful moments with God in the pages of books. Fiction and nonfiction alike. Books give me the language for things I didn't know how to say. They remind me that I am not alone in my struggles and insecurities. They are avenues for me to keep growing and keep becoming more like Jesus.
It's part of the reason I taught Language Arts in school for a while, and the main reason I write. I want to use my words to help people bridge the gap between where they are and where they want to be.
I want to help people find some answers and encounter God in the pages of a book.
But along with writing books, I'm also an active reader. Reading is fun and relaxing for me, and its another way to spend my Devoted Time with the Lord.
Throughout my reading journey I've found so many books that I loved and I know others could benefit from too. That's why today I decided to give you a round-up of some of my favorite reads for seasons of waiting.
We're all caught in some kind of waiting. For many of us, right now, we're all waiting for the end of this pandemic. As the Church, we're waiting for Jesus' return. And as individuals, we all have something–or a couple of somethings–in our personal lives that we're waiting on.
In my own waiting seasons I've sought out words of comfort and hope, and I have found them in these books.
If you're in a waiting season right now, I pray one of these books will be a special companion and a bit of grace as you wait.
Remember God
Annie F. Downs has been a much-needed voice in my life for the last several years. She has taught me how to be gracefully single even when I want to be married. She has shown me the messy, vulnerable side of faith, and she has given me permission to be honest with myself and with God.
Remember God is her third book for adults and one of those books I've read multiple times because I relate to it so strongly.
This book is Annie's journey of trusting God for His promises, dealing with the disappointment of broken dreams, and remembering who God really is. She explores the question, "Is God kind?"
If you just need someone to come alongside you and say, "Yay, I know this is hard. I feel it too," while also giving you hope to keep going, this one is for you.
Still Waiting
I've read a lot of books about waiting, and many of them are written from the perspective of someone on the other side of the waiting season, or someone who waited and got what they wanted. Ann's story is not that.
In Still Waiting, Ann Swindell shares the hard reality of what it looks like to wait on God for something and Him not answer. As one still in the middle of some hard waiting seasons with no promise that what I'm waiting for will happen, I found this book so refreshing.
We run the risk of assuming that everything we're waiting for, God will do. It's what we tell our friends who are waiting. "Don't worry, it will happen in God's time." But we don't know that for sure. So what do we do when the answer is "no" or "not yet"? How do we respond? Still Waiting explores that idea with grace, truth, and the reminder that our hope doesn't lie in the thing we're waiting on, but in the Lord.
Anchored
Kayla Aimee is one of the funniest, most engaging authors I've read. She has an amazing ability to insert humor into the most mundane and painful things in a way that breathes new life and hope.
Anchored is Kayla's story of suffering through a hard pregnancy and a hard waiting season. Throughout these pages, she explores the question of, "Where is God in this?" That's a question we're all asking, isn't it? When things get hard, when we experience suffering, it can be a challenge to see the Lord, but I promise you–and so does Kayla–that He is right there.
If you need help noticing God in the middle of your waiting, pick this one up and laugh and cry along with Kayla as she uncovers a hope that doesn't let go.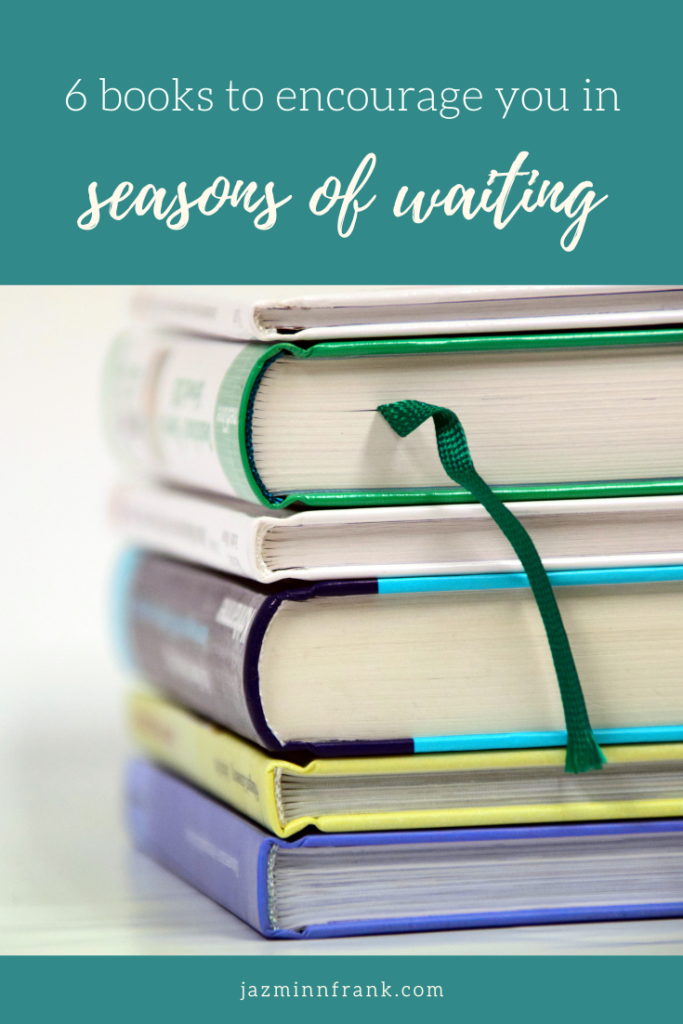 It's Not Supposed to Be this Way
I haven't read any of Lysa's other books, but this one landed in my hands during a season when I needed these words most. The title alone, It's Not Supposed to Be this Way, touches a tender place in my heart that often cries out to God about how broken this world is.
In this book, Lysa vulnerably shares about one of the hardest seasons in her life when she thought her marriage was over and she was struggling to keep her head above water. It's a book that explores the question of "Is God good?"
There is no fluff here. This is not the book of someone who has figured out all the answers. In fact, she started writing this one before she knew how things would end. This is the story of someone in the middle of suffering and the God who comes close, comforts, and prooves Himself good and faithful.
Even If Not
I started following Kaitlyn on Instagram a few years ago. She had posted something about waiting that really resonated with me. After a little digging, I found out she had a book on the topic and I just recently picked it up and started reading.
Even If Not pulls the title from a statement three Hebrew youth make in the book of Daniel. The Babylonian king had erected an idol and demanded everyone bow down and worship it, but Shadrach, Meshach, and Abednego refused. As a consequence, the king threatened to throw them into the fire, but the three young men held their ground and delivered a beautiful response:
"Nebuchadnezzar, we don't need to give you an answer to this question. If the God we serve exists, then he can rescue us from the furnace of blazing fire, and he can rescue us from the power of you, the king. But even if he does not rescue us, we want you as king to know that we will not serve your gods or worship the gold statue you set up." ~Daniel 3:16-18, CSB
Kaitlyn uses this passage as a foundation to explore the question of "How do we still live faithfully with God even if He doesn't do what we have asked?"
If you're dealing with the fallout of your waiting season not going like you'd hoped or if you're being challenged with the question of "What if God doesn't do this?" grab this one.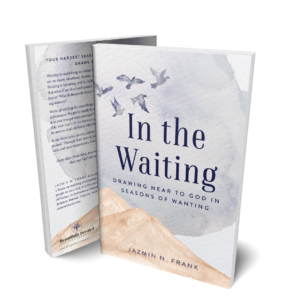 In the Waiting
This last one is actually one I wrote. Repeatedly in the waiting, I have turned to Scripture for answers and hope, and I have found great comfort in the stories of the people who waited. I've noticed that the people in Scripture aren't very different from me. They have aches and longings and needs, just like me. They are waiting on God to move and act on their behalf. And we can learn a lot from their stories.
In the Waiting is a 40 day Bible study that focuses on the stories of those in Scripture who waited and what we can learn from them about drawing near to God in our seasons of wanting.
This study releases October 20th, but you can grab a preview of it now!
Do you have any other books that have been an encouragement in this season?
Related: 8 Books to Grow Your Faith
Live in His love!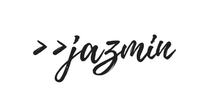 Looking for more great book recommendations? Check out my Resources page!
Just a quick note: Some of the links in this post are affiliate links. That doesn't affect you at all. It simply means that if you click through and make a purchase, I will receive a small commission. This is just another small way that I can keep creating devoted resources for you!